An adventurous spirit led Cátia Silva to internal auditing.
Cátia Silva -blog / February 03, 2022
"My journey from hotel operations to internal audit started soon after I graduated with a degree in hotel management in Estoril, Portugal. I had completed several work experiences in hotel operations across London, Barcelona, Bahrain, and Shanghai, and I eventually settled in the city of Macau, a former Portuguese colony located on China's southern coast.
I still remember arriving in Macau in 2014. I was 6,774 miles away from home, and I had a mixture of emotions. The city was mysterious! I recall the hotel lights, the crowds, the noise on the streets, the Chinese melodies inside temples, the exuberance of the casino-resorts, and the richness of the city. But I also had a feeling of disconnection, particularly with the culture, traditions and local habits.
However, it wasn't long before I realized that Macau felt like home and was full of opportunities. The city is a unique mix of Chinese and Portuguese-style architecture, culture, and food. Known as the "Las Vegas of the East," gambling is its pillar industry. However, the city is also known for tourism, hospitality, conventions and exhibitions, horse racing, and the Macau Grand Prix.
In my very first full-time job, I worked as a guest relations officer at a 3,000-room hotel! The days were extremely busy, and I assisted more than 100 international guests a day with a wide range of requests. I managed groups of 2,500 rooms and dealt with VIP arrivals and departures, but I was also challenged to demonstrate problem-solving and creativity to resolve complaints — while learning how to control my emotions and remain calm under pressure.
While I genuinely enjoyed providing excellent customer service, I started to reevaluate my life and career. I realized that being a hotelier wasn't providing me with a good work-life balance, and I wanted more personally and professionally. I had little time to continue pursuing my studies, gather with family and friends on special occasions, play sports, practice healthy eating habits, or travel. There was a day that my heart told me I needed a change for the better — to a more secure career, a healthier lifestyle, and happiness. I wanted to find that balance!
When a vacancy came open for an internal auditor position at my company, I applied with no hesitation. I went through several rounds of interviews, and I remember being challenged with this question: "Why do you want to become an internal auditor?" I answered, "I want to know how a big company like ours operates, not only from the hotel operations side, but on a large scale, and I want to be part of change."
In fact, I didn't know much about what being an internal auditor was like at that time. But I was confident that I could apply some of the skills I had acquired — effective communication, listening with both ears and eyes, and maintaining composure under pressure — to my new role.
Eventually, I successfully transferred to my company's internal audit department as a subject matter expert in hotel operations. Now four years into the profession, I execute advisory reviews and operational and compliance audits across five properties held by my company in Macau. I am a proud internal auditor serving as a trusted advisor.
It has, indeed, been a life-changing experience. I brought my customer service focus into internal auditing, but I learned to look at business processes with a control and risk mindset. For example, because casino gaming is highly regulated in Macau, as an internal auditor, I have to keep up with emerging risks impacting the business and comply with regulatory requirements. At the same time, I have gained exposure to many different areas and processes within my company, which makes me a versatile employee.
Thanks to a culture with an excellent work-life balance and supportive leaders, I was able to complete my MBA with a specialization in internal audit. I enjoy studying during my free time, and I am now pursuing the CIA designation, as I aim to continue advancing my career.
Personally, internal auditing led me to a more meaningful life where I can align my interests with a healthy lifestyle. I am a lover of mountains and nature, and I often find time to hike during holidays for pleasure and exercise. I was fortunate enough to go on several hiking adventures across Japan, Thailand, Vietnam, Philippines, Beijing, Taiwan, Hong Kong, Cambodia, Australia and Myanmar. And soon I hope to be hiking in New Zealand!
Sometimes the best choices in life happen when one truly evaluates what's meaningful and important and lets the heart lead to change for the better. For me, this strategy resulted in a happier life and a more rewarding career."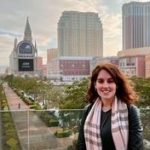 Cátia Silva

CIA Candidate, Global MBA, is an internal auditor at Sands China Ltd. in Macau
Avaa koko näytössä.