EU Financial Services for Internal Auditors Certificate (CFS-EU)
Kurssi
Aika
20.03.2023 10:00 - 24.03.2023 14:00
Paikka
Live On line - from Monday 20 March to Friday 24 March, every day from 10 am to 2 pm
Hinta
Jäsenet: 1900,- euros
Muut: 2400,- euros
Ilmoittaudu ›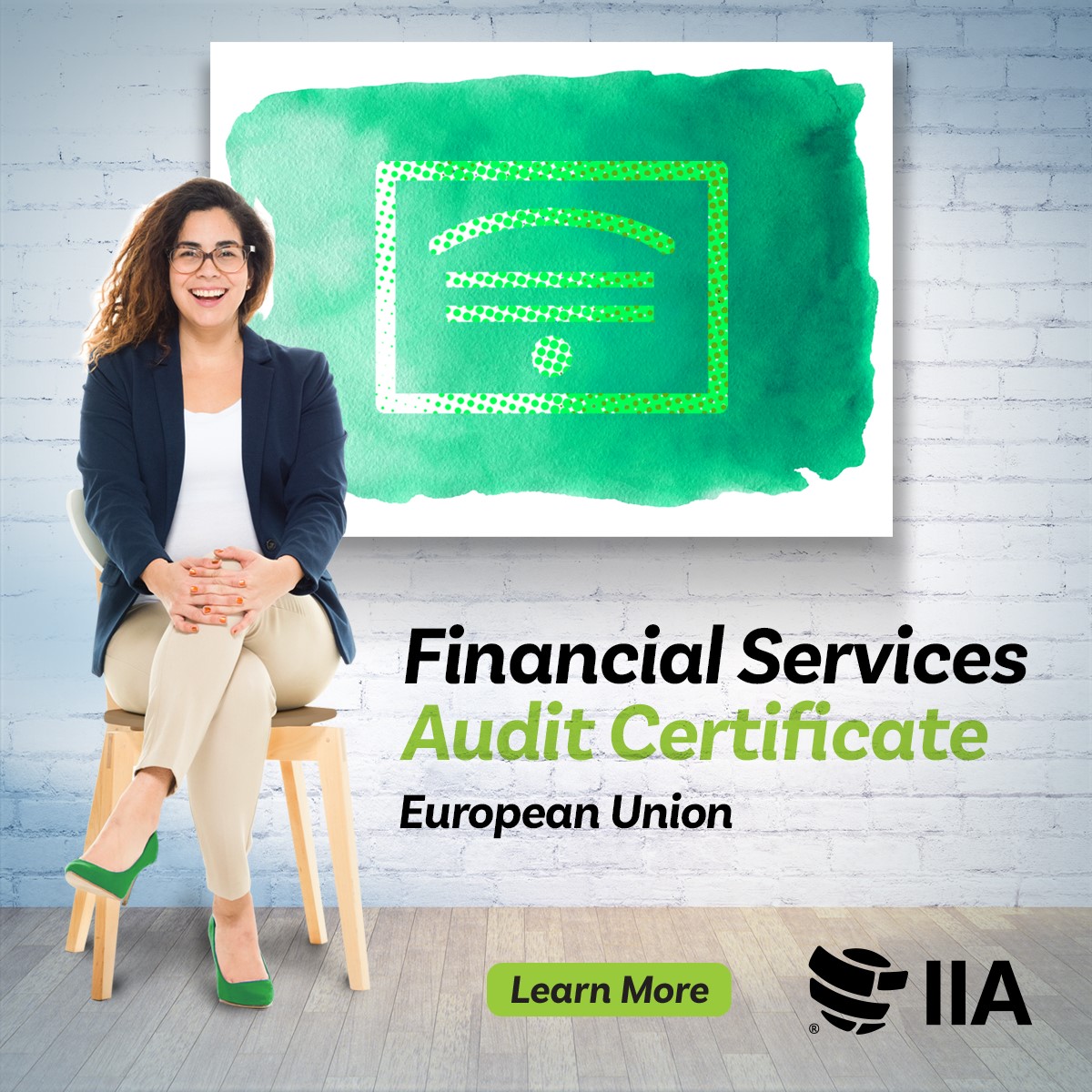 Kurssin kuvaus
Financial services in the European Union is a complex, highly regulated, and rapidly changing industry. Swift advances in technology, heightened regulator and consumer expectations, volatile risks, and globally interconnected financial economies have reshaped the business of financial services. As risks, opportunities, and disruptions in business strategies and operations unfold in banks, commercial real estate firms, insurance companies, and investment management firms, internal auditors must be prepared to continue to provide independent assurance and advisory services to enhance and protect organizational value.
EU Financial Services for Internal Auditors Certificate, a facilitator-led specialty certificate program, will provide you with critical intelligence, guidance, and practical applications to advance a career in financial services internal auditing. The program includes a general financial services foundations unit followed by more in-depth training on liquidity, model risk management, fraud, culture and conduct, and other mission-critical topics. CFS-EU adds an EU regulation specific module in the syllabus of the original certificate (IIA CFS).
WHO WILL BENEFIT:
This certificate program is designed for chief audit executives, internal audit managers, senior and staff auditors, and consulting associates who wish to demonstrate their proficiency in EU financial services internal auditing. The program provides participants with 20 hours of CPE. After completing this program, participants will be eligible to sit for the final assessment and earn their certificate and badge.
LEARNING OBJECTIVES:
After completing this certificate program, participants will be able to:
• Demonstrate a firm understanding of the foundations of internal auditing in financial services.
• Apply the concepts of The IIA's International Professional Practices Framework (IPPF), Financial
Services Risk Framework, and other relevant frameworks to the organisation's strategy and objectives.
• Demonstrate a working knowledge of the regulatory landscape and of key risks facing financial services organisations.
• Conduct financial services focused engagements in conformance with the International Standards for the Professional Practice of Internal Auditing.
COURSE TOPICS AND CONTENT:
Foundations of Internal Auditing in Financial Services
Auditing Liquidity Risk
Auditing Capital Adequacy & Stress Testing for Banks
Auditing Model Risk Management
Auditing Credit Risk
European Unit Financial Services
Assessing Market and Interest Rate Risk
Auditing Culture and Conduct Risk in the Control Environment
Assessing Cybersecurity Risk: roles of the Three Lines Model
Assessing Fraud Risks
Auditing Third-party Risk
COURSE INFORMATION – THE PROGRAM INCLUDES:
Course duration: all in all 2,5 days. The training will take place on line, in interactive virtual classroom format from Monday to Friday 20 March to 24 March, every day from 10 am to 2 pm.
Knowledge level: intermediate
Prerequisites: 1+ years of experience in the financial services industry
Advance preparation: None
Online Exam: Complete the exam on line at the date and time that works best for you within 90 days of finishing the training course. Open book exam.
Certificate and Digital Badge: You will receive a PDF certificate suitable for printing and framing and a digital badge that can be easily shared with your professional network
Participant´s material – eBook
CPE reporting requirements: None
KEY TOPICS:
• Financial services foundations
• Auditing Financial services risks
• Includes EU specific regulations
Free cancellation 2 weeks before the course starts.
More info about the training / invoicing, please contact IFACI
Contact: Perrine Benard
e-mail : pbenard@ifaci.com
phone: +33 1 40 08 48 08
CPE: 20